ARTICLE LANGUAGE AND TRANSLATIONS
Lambda Cyg
Sunday 6 July 2008 by desnova
Lambda Cyg (54 Cyg) exhibits H-alpha evolution.
In the BeSS database, the H-alpha line was in pure absorption in 1992 and more recently in Sept 2007. But the recent spectrum of Christian Buil taken the 18th of June 2008 clearly shows the beginning of an emission phase.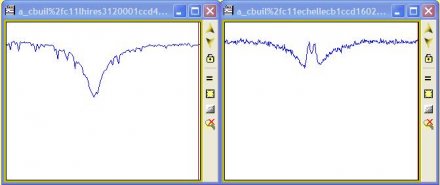 It is thus strongly recommended to observe this star as it can evolve over time quite rapidly.
Home page
|
Contact
|
Site Map
|
Sign In
|
Statistics
|
visits: 150284

en

News ? Site created with SPIP 2.1.23 + AHUNTSIC
-->